3 hot stocks that can jump this Black Friday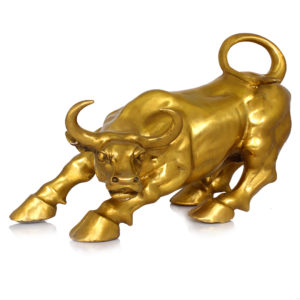 Black Friday is one of the world's largest shopping bonanzas. In 2016, shoppers spent $1.9 billion online on Thanksgiving Day and another $3.3 billion on Friday, according to Adobe. And this holiday looks set to be even bigger. Consumers plan to spend an average of $743 from Black Friday through Cyber Monday this year. This is up from an average of $505 over the same weekend last year (shows data from a RetailMeNot survey).
"Over the past three years, November and December have been 3-4X more important for retail stock performance than other months of the year," says Katherine Fogertey, a Goldman options strategist. "While secular pressures from the growth of e-commerce have largely broken the sector's ties to many macro variables this year, we still see potential for stocks to take incremental cues from holiday shopping demand given the outsize impact to sales."
At TipRanks we cover over the latest market activity on over 5000 stocks. We can see what the Street's best analysts are predicting for major events such as Black Friday. Interestingly, we can also combine the insights of an individual analyst with the overall analyst consensus rating to ensure we find the market's most promising stocks. Here all three stocks covered below have a 'Strong Buy' analyst consensus rating, based on ratings published by analysts over the last three months. Let's take a closer look now.
Amazon (NASDAQ:AMZN)
E-commerce giant Amazon looks set to be one of the key beneficiaries this weekend. Indeed, top SunTrust Robinson analyst Youssef Squali says: "We continue to expect Amazon to have a record breaking 4Q and holiday season." Squali has a buy rating on the stock and $1270 price target (10% upside).
He is also a fan of Amazon's latest moves into the world of apparel: "Calvin Klein will be selling new underwear exclusively through Amazon.com this holiday season as well as through pop-up shops in NYC and Los Angeles. This is just another example of Amazon offering exclusive apparel options (the fastest growing category in ecommerce according to ComScore – see below) as well as broadening its physical footprint in anticipation of the busiest shopping period." Note that five-star Squali has a very impressive track record on AMZN stock with a 95% success rate and 44% average return.
Overall, TipRanks shows that AMZN has one of the most bullish outlooks out of the stocks we cover. In the last three months, has received 31 buy ratings vs just 1 hold rating. Meanwhile, the average analyst price target of $1,256 suggests potential upside for Amazon of close to 9% from the current share price. You can click on the screenshot below for further analysis on Amazon.

Apple (NASDAQ:AAPL)
Top analyst Michael Walkley at Canaccord Genuity is very confident on AAPL's outlook this holiday season. He says that "especially" if the company can step up its iPhone X supply game for the 256 GB models, this should translate into robust sales. Walkley calculates that this "lucrative" holiday period can generate 78.5 million iPhone unit sales for Apple. The iPhone X will also launch in a further 14 countries on Thanksgiving and Black Friday. Walkley reiterated his buy rating on the stock on November 20 with a $195 price target (11.5% upside).
Apple has a Strong Buy analyst consensus rating with 25 buy ratings in the last three months vs just five hold ratings. As the screenshot below indicates, the average analyst price target of $188 translates to 8% upside from the current share price.

Kohl's Corp (NYSE:KSS)
This American department store retailing chain is a rare 'Strong Buy' retail stock for top analysts. These analysts have an average price target on Kohl's of $50.33- which suggests upside of over 12%. Goldman Sachs' Katherine Fogerty points out that KSS shares are down about 9% year-to-date even after a steady build up in prices over the last month. She says investors are underappreciating Kohl's potential for volatility over the holiday- and recommended buying a straddle on the stock. This is an options strategy that lets investors trade stock volatility.
The post 3 hot stocks that can jump this Black Friday appeared first on TipRanks Blog.