Goldman Sachs: 5 Top Stocks With Strong Balance Sheets
"Many of the companies with the strongest balance sheets today are also the companies with the strongest growth" Goldman Sachs' chief US equity strategist David Kostin stated recently. The firm has now released a list of top stocks with strong fundamentals. These are the stocks that should see you through the latest round of Fed tightening. Officials raised interest rates by a quarter point for the second time this year and upgraded their median forecast to four total increases in 2018 on June 13.
"Strong balance sheet stocks have historically outperformed weak balance sheet stocks during environments of rising leverage,"  writes Kostin. "We expect financial conditions will continue to tighten from record easy levels... We have recommended investors own strong balance sheet stocks given the backdrop of record corporate leverage and Fed tightening."
Using TipRanks analytics we dived into the outlook of five of these stocks. These are the stocks that make the most promising investing opportunities according to the Street. TipRanks tracks the latest ratings from over 4,800 analysts, enabling us to quickly assess the overall outlook for over 5,000 US-listed stocks. The upshot is that you don't have to rely on just one analyst when making crucial investing decisions. You can check the anlayst's track record and the overall consensus. With that in mind, let's now take a closer look at these 5 top stocks:
1. Costco (NASDAQ:COST)
Membership-only warehouse store Costco is buzzing right now. The company is defying challenging retail conditions with strong sales and best-in-class fundamentals. We can see from the graph below that top-rated Cowen & Co analyst Oliver Chen has just reiterated his COST buy rating. He also ramped up his COST price target from $214 to $228 (10% upside potential).
Costco's traffic and comparable-store sales are "some of the strongest in retail" writes Chen. Plus its e-commerce business is demonstrating impressive momentum with big growth potential. Management has "embraced omni-channel retailing, while staying true to its physical club heritage"  and its new speedy delivery offerings are already seeing "nice growth."
Note how COST boasts 100% support from top Street analysts based on the last three months of ratings:

2. Nvidia (NASDAQ:NVDA)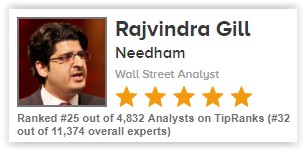 Chip giant Nvidia is another top stock pick for Goldman Sachs. Indeed, NVDA has already shown an impressive growth spurt of 37% year-to-date. The stock is now trading at just over $265. And Goldman's David Kostin is confident that this outperformance is set to continue.
He isn't alone. Five-star Needham analyst Rajvindra Gill has just hiked his NVDA price target from $300 to $325 (23% upside potential). He admits that "the valuation is high compared to the rest of the semi group" but "we can't find another chip company where revenue has doubled in three years and earnings have grown ~5x, all organically."
Nvidia is enjoying a big boost from its extremely powerful Volta GPU architecture. In the last quarter data center chip sales surged 71% to $701 million. The Volta is designed to support everything from AI to machine learning. Gill points out that "every major cloud provider and server market is deploying Volta." Adoption is high across several platforms: public cloud, Microsoft Azure, Amazon.com, IBM, Oracle, Google.
Overall, TipRanks analytics show that the stock has a cautiously optimistic Moderate Buy analyst consensus rating. You can click on the graph below for further stock insights:

3. Home Depot (NYSE:HD)
"HD remains a top pick in our Hardlines & eCommerce coverage" writes top-rated Oppenheimer analyst Brian Nagel on May 29. He has just spent the weekend visiting retail stores within his coverage stores. And HD's "Superstore" in Vauxhall, NJ was the standout experience. "HD operational prowess on display" was how Nagel summed up his trip, praising the free in-store WiFi, huge auto section (complete with Tesla reps), a busy garden center, attractive design and a full Dunkin Donuts unit for hungry shoppers. So far Nagel has a very impressive track record on HD specifically:

And looking forward, the outlook from the Street is very encouraging. "We continue to believe that the macro backdrop for growth in home improvement spending is favorable, and that HD is also well positioned to continue its solid track record of share gains" states Merill Lynch's Elizabeth Suzuki. She has a $215 price target on HD (7% upside potential). For 2020, she believes the company can meet its targeted 4.5-6.0% sales CAGR, 14.4-15.0% EBIT margin and ROIC of 36.4-39.6%.
Overall the stock has a Moderate Buy analyst consensus rating and $208 price target. Click here for a more in-depth analysis of HD stock.
4. Facebook (NASDAQ:FB)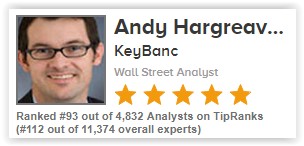 What list would be complete without social media giant FB? Facebook remains one of the Street's favorite stocks. Top 100 KeyBanc analyst Andy Hargreaves has a very bullish FB price target of $245 (25% upside potential).
Popular photo sharing app Instagram is the jewel in FB's crown according to Hargreaves. He is now envisioning over 1.4 billion monthly active users and more than $22 billion in annual revenue for Instagram by 2020. This represents about 27% of FB's incremental ad revenue this year, rising to 58% by 2020.
"As core Facebook matures, Instagram is the key to the next leg of growth," states Hargreaves. "Core Facebook is clearly maturing, with ad load reaching a saturation point and pricing the last lever to pull, so we see Instagram driving an increasing portion of incremental advertising growth."
With a 'Strong Buy' analyst consensus rating, the Street is currently modelling for 13% upside from current levels:

5. Adobe (NASDAQ:ADBE)
Software stock Adobe Systems- aka the lingua franca of web designers- has made investors very happy with a stellar 44% run year-to-date. The company has just delivered a strong beat and raise quarter, prompting a bullish report from Merrill Lynch's Kash Rangan. He boosted his price target from $278 to $292 (16% upside potential) as "the underlying fundamentals are still strong and FCF [free cash flow] generation is shining through."
He has a long-term revenue target for ADBE of $20 billion by FY23. "We have high confidence in Adobe's ability to ramp its recurring revenues as it grows its Creative Cloud user base and subscription revs in Dig  Marketing and other businesses." His final word on the stock for investors is: "ADBE remains a unique opportunity – it is cloud-like in growth, legacy-like in margins and GARP [growth at a reasonable price] like in valuation."
Taking a step back we can see that the stock scores a Moderate Buy consensus from the Street. This comes with a $269 average analyst price target.
Crush the market with the Street's best stock ideas
TipRanks' Top Recommended Stocks factor in ratings made by the best-performing analysts with the highest average return and success rate. These are the analysts that get it right time and time again, giving you confidence in your investment decisions. Select the filters that match your personal investing strategy to find your own Strong Buy stocks.

The post Goldman Sachs: 5 Top Stocks With Strong Balance Sheets appeared first on TipRanks Blog.